2023 Hospice Billing Series
---
Date/Time: 09/12/2023, 12:00 pm
Provider: FHPCA
Map Unavailable
If you are part of a hospice revenue-cycle team, this webinar series is a must!
Learn how to maximize timely reimbursements, provide excellent care, ensure accurate documentation, and avoid billing mistakes!

2023 HOSPICE BILLING TOPICS

90-minute webinars – available live or on-demand
Hospice Billing Part 1: Eligibility Requirements & Notice of Election
Hospice Billing Part 2: Details of Medicare Claims Processing
Hospice Billing Part 3: Face-to-Face, Hospice Cap, Physician Billing & PEPPER
Purchase webinars individually or save 10% with a series!
SERIES DETAILS
Medicare billing regulations can be overwhelming – don't get lost in the weeds! This three-part series presented by industry expert Melinda Gaboury provides a thorough understanding and step-by-step guide to hospice billing. New billing staff will learn to feel confident in their work and seasoned billers will benefit from the updates and refresher training. Part 1 will focus on Medicare eligibility requirements and the Notice of Election. Part 2 will cover all the details of Medicare claims processing, including billing necessities for patients enrolled in the Medicare Advantage Plan under the VBID model. Lastly, Part 3 will cover the face-to-face requirement, hospice cap, physician billing, palliative care reimbursement, and PEPPER reports. Hospice reimbursement is driven by excellent care, accurate documentation, and a revenue-cycle team that can bring it home.
THIS SERIES WILL BENEFIT THE FOLLOWING AGENCIES:
Included Webinars:
SEP 11, 2023WEBINAR
The 2023 Hospice Final Rule brought reimbursement changes that include an increase in rates. New and experienced hospice billers alike should periodically review eligibility requirements and reimbursement and election clarifications and updates. This session will examine eligibility verifications, the Election Statement and Addendum, and Notice of Election requirements under recent regulatory updates. It will walk through the Late Notice of Election and the exceptions process of appeal. Join us for this comprehensive review of every eligibility requirement, all aspects of Election Statement changes, and everything related to the Notice of Election.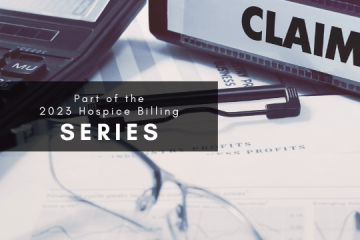 SEP 18, 2023WEBINAR
This webinar will be a step-by-step review of the Medicare billing process and provide examples of how hospice agencies have successfully dealt with recent changes. It will also provide a billing requirement overview for when the patient is enrolled in a Medicare Advantage Plan participating in the VBID Model.
SEP 26, 2023WEBINAR
Face-to-face requirements, physician billing, and the aggregate cap self-reporting requirement are a few of the many daily reimbursement-related challenges hospices face. Learn to tackle those challenges with confidence. Expand your agency's knowledge of palliative care reimbursement and the palliative benefit for patients in the VBID model through a comprehensive review, including specific physician billing codes, HIS transmission requirements, the increased penalty for noncompliance, and medical review denials. How PEPPER reports affect your hospice will also be covered.